How To Create A Romantic Date Night By The Pool
The typical image of a pool will show children splashing, the sun shining and – let's be frank – very little romance. You'd be forgiven, then, for not immediately thinking of your pool when considering ideas for you and your partner's date night. But with a few tweaks and a little bit of work, you can turn your pool into a romantic getaway for a completely original and unforgettable date night. And you won't even have to leave your home!
First, you need to set the atmosphere for your date night. Your pool has already taken care of the view and the activity, but no date night is complete without a romantic ambience. 
A portable, water-proof speaker will be your best friend here. Create a playlist that both you and your partner can enjoy, and have it playing (softly, or loudly depending on your taste) throughout the night. If you end up diving into the pool later on, then you can even bring the speaker in the pool with you to maintain the setting. 
Next, you'll want to lower the lights, so as to speak. There are plenty of underwater LED lighting options for your fibreglass pool. Modern underwater LED lights can also change colour to many different appealing shades, allowing you to perfectly set the scene to your desire.
It's Not A Date Without Dinner!
Cooking dinner is a fantastic way to show your spouse or partner that you care about them, and they're sure to appreciate the effort you've put in for them. Although, if you're not the most confident cook then you can always consider ordering in and surprising your partner with their favourite takeout – don't worry, we won't tell!
Eating by the pool can be a tremendously romantic affair, as the two of you can dip your toes into the water while you eat. You will also be free from distractions such as the TV and your phone, allowing the two of you to appreciate and enjoy each other's company. If you're looking for that extra bit of romance – and you have non-glass cups and adequate furniture around your poolside area – then you can even make your partner a cocktail or drink of choice! Wining and dining around a relaxing and soothing body of water is a tried and true method for a romantic evening.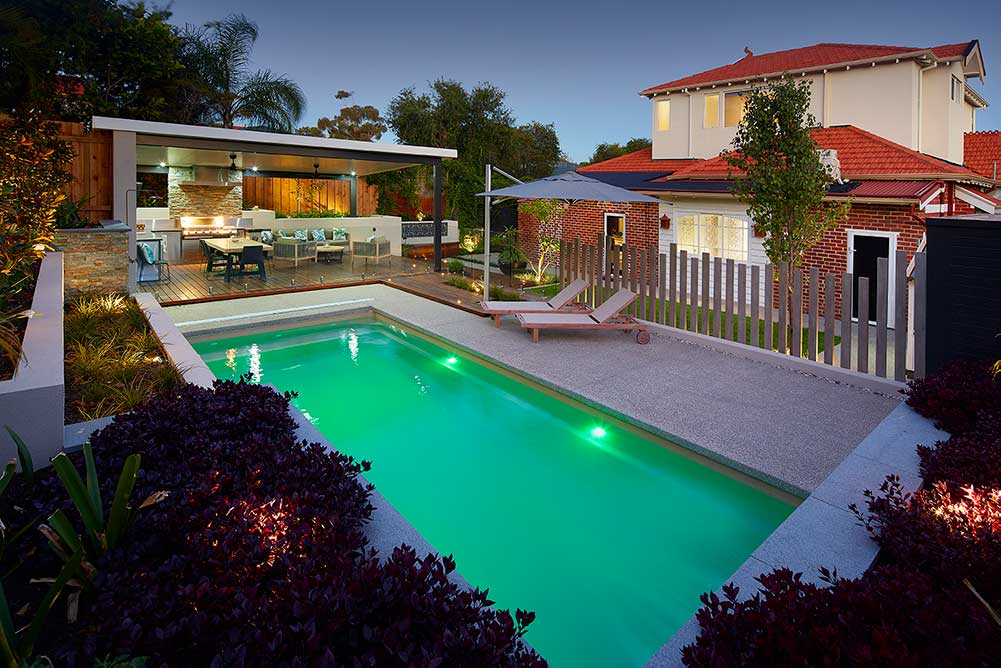 Nothing quite says romance like an intimate soak session in a heated, relaxing spa. So why not incorporate it into your date night!
A spa has many therapeutic benefits, such as relaxing your and your partner's muscles after a long day at work. By relaxing the both of you, physically and mentally, your date night will be far more enjoyable and refreshing. 
A spa is also uniquely suited to night-time use, especially in the winter. Spas are normally heated and this will help keep the chill off during the winter months, meaning you won't have to sacrifice date night just because it's cold. P.S. Make sure you get the bubbles going for maximum romance!
Dancing is another mainstay of a romantic date night. Ensure you clear away any obstacles around your poolside areas, such as skimmers or vacuums, to create a dancing space for you and your partner. Typically, most pools will be placed outside and this means the both of you can enjoy dancing underneath a starry night sky.
Make Sure To Keep Things Fun With Floaties!
As you may have guessed, floaties aren't the most romantic things – at first. But there is nothing more romantic than having fun with your partner. After all, some of the funnest moments we have turn into our most unforgettable memories! So, with that being said, don't be afraid to turn things from romantic to fun, if only temporarily. Floatation devices are a great way to make swimming fun, especially if you've chosen outrageous designs such as flamingos or hamburger floaties! As a bonus point, swimming is well known to reduce stress and anxiety because of its cardiovascular nature – keep fit while you stay romantic.
A fibreglass pool can be the perfect complement to a romantic date night. It will encourage you to make the most of your nights at home and may even shake up your existing date night schedule. The best part is: you'll be able to use it during the day too! A fibreglass pool can be used to improve your life in plenty of ways. View our pool range today and see why we're Australia's favourite pool provider!